MANAGEMENT TRAINING
Management development programs help leaders manage more effectively in an ever changing business environment. Some of the programs we have administered are: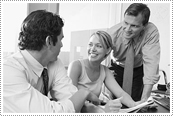 Interpersonal Management Skills
Coaching and Mentoring
Leadership Skills
Managing Change
Performance Management
Conflict Resolution
DiSC



read more
GAMES & EXPERIENTIAL LEARNING
Dozens of corporations have successfully used games to build enthusiasm, focus efforts and teach people about themselves and how they work with others. Participants work with each other in a realistic situation that enables them to observe the consequences of their own skills and behaviors. Training activities can be used to teach employees selling skills, team work, problem solving and decision making skills. Some of the activities available are to:
Teach participants diversity, cultural awareness, trust, respect and conflict resolutions.
Develop teams the concept and the value of cooperative-competition.
Help leaders, managers and supervisors to check their own perceptions of their use of the supervisory skills against the norms developed for similar groups of people.
Teach facilitative leadership skills.
Prepare people for the challenges of project work.

Bring financial statements to life.

Inspire innovation and foster creativity

Help people understand how and why their roles and relationships influence the entire organization.


read more